Pumpkin seed curls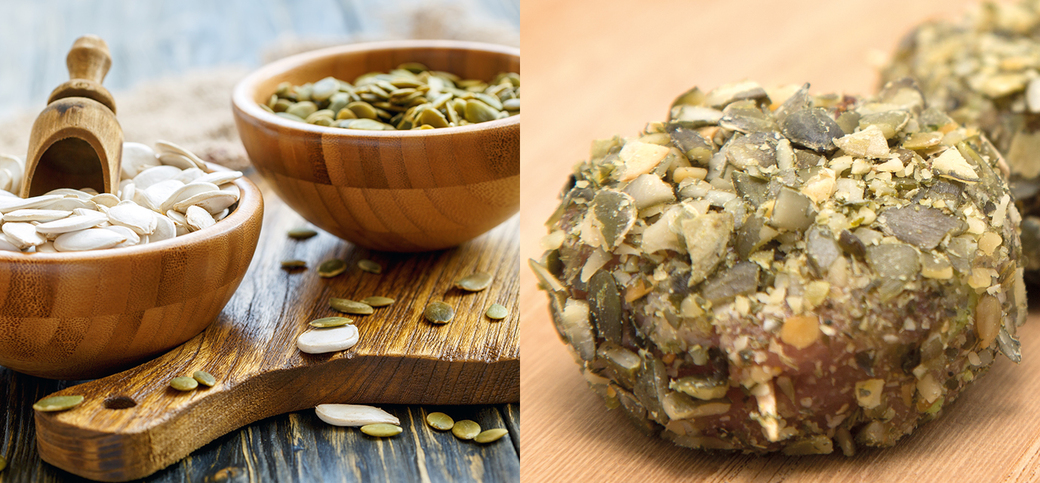 INGREDIENTS
The recommended portion is a couple of curls per person.
For each curl you need:
1 thin slice of veal
1 teaspoon of grated ripe pecorino cheese
1 leaf of basil
1 toothpick
2 tablespoons of shelled pumpkin seeds
olive or seed oil for cooking
PREPARATION
Chop the pecorino cheese and basil together.
Spread out the slice of meat on the work surface, place the chopped mixture on top, along the entire length of the slice, and roll it up like a cigarette, then turn it back on itself like a snail shell and fasten it with a toothpick running right through its diameter.
Chop the pumpkin seeds in a blender until medium-fine; do not overdo it as otherwise they will be ground to a powder.
Place the chopped seeds in a bowl.
Push the meat curl into the pumpkin seeds to create a breadcrumb-like coating that will be crispy when cooked.
COOKING
Pour a little oil into a non-stick pan, place the curls inside, put the lid on the pan and cook over medium-low heat. After a few minutes, take the lid off and check that the meat in the curls has changed colour, meaning that they are cooked halfway through. Turn them over with two wooden spoons and put the lid back on the pan. After a few minutes, remove the lid and check that they are cooked. The heat must remain low to avoid burning the pumpkin seeds and to cook the insides of the curls without drying out the outsides.
If the curl has not been fastened properly, the filling will ooze out during cooking.
I created this recipe on the drawing-board, using a method that has often been of assistance to me. Concentrating on one ingredient (in this case the pecorino cheese), I started to look through cookery magazines, leaving the pages with the photographs I liked best open on the table. The recipes, and above all the photographs of them, provide a kind of springboard for the imagination and are inspiration for trying new combinations and forms, to develop the idea of a new, original dish.
Antonella Alberghini