GS965DOPX
Stainless Steel 90 cm BI ENERGY Cooker
Exclusive to Harvey Norman and Domaine stores.

"Doppio" - Italian for Double - roast using moist gas heat, bake using dry electric heat.
Double the energy sources - double the cooking options - double the fun. At Glem Gas Australia innovation. We took a conventional oven and combined both gas and electricity in the one oven. Beautiful succulent roasts using the moist heat of gas and crisp fresh baking using the dry heat of electricity. You get to make the choice every time you cook - fan assisted gas or fan forced electricity. Either way it's fantastic.
Features
XXL 140L Extra wide oven
Operates as a gas or an electric oven
Air fryer basket
Heavy duty cast iron trivets
Triple glass insulated door
Square hob profile
Single piece easy clean hob
Sealed oven cavity
Oven side chromed racks with stops
Smooth closing oven door
Full glass inner door
Digital clock and timerStorage
compartment
"DOUBLE" OVEN
Multifunction gas oven with fan
Fan forced electric oven
Use the fan function for electric or gas air frying
Closed door electric grill
5 gas burners with left hand wok burner
1 grill rack
1 grill tray
2 oven shelves
1 telescopic rack
LPG conversion kit
One-hand ignition
Flame failure safety valves

High resolution image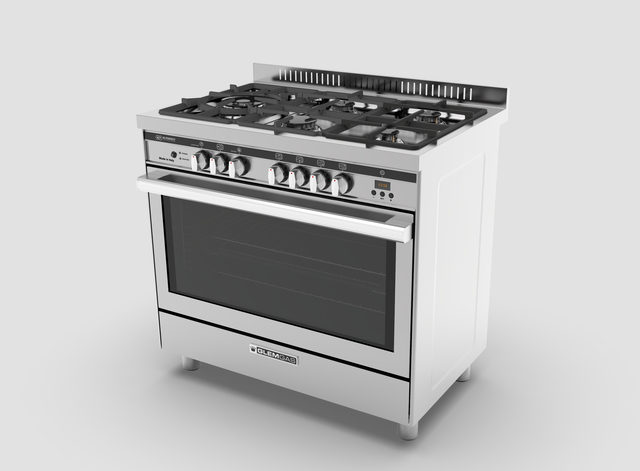 Technical features
Instruction booklet
ST9631TI01AU
ST9631TN01AU
ST9651TI01AU
ST9651TN01AU
Request information for GS965DOPX