Baked "Tortelli Emiliani"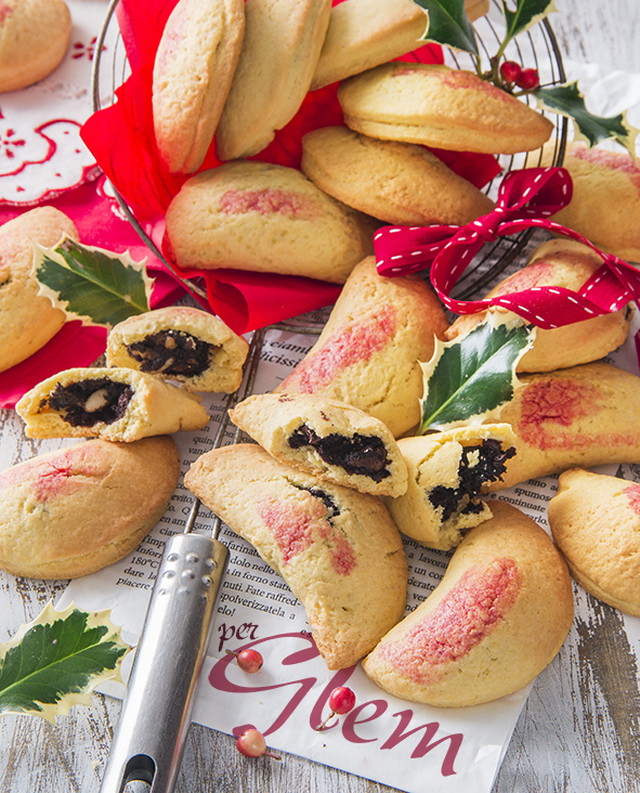 Baked "Tortelli Emiliani"
Ingredients:
dough:
550 g of flour
160 g of sugar
145 g of butter
8 g of baking powder
3 eggs
3 spoonfuls of Sassolino (aniseed liqueur)
grated rind of 1 lemon
salt
filling:
100 g of boiled, peeled chestnuts
125 g of plum jam
40 g of coarsely chopped walnut kernels
30 g of coarsely chopped roasted almonds
30 g of whole roasted pine nuts
35 g of dark chocolate
25 g of cocoa powder
1 spoonful of Sassolino (aniseed liqueur)
egg white as required
decoration:
Alchermes liqueur to taste
Preparation:
1. Dough: quickly mix all the ingredients together, then leave the dough to stand for 3 hours in the refrigerator.
2. Filling: grind the chestnuts in a vegetable mill.
3. Add the jam and the nuts to the chestnut purée.
4. Complete with the chopped chocolate and the cocoa powder and flavour with the liqueur.
5. Roll the dough out thinly and then use a dough cutter to cut discs and fill then with a teaspoon of the filling.
6. Fold over and seal the edges thoroughly (brush the dough with a little egg yolk if you wish).
Bake the "tortelli" in a Glem oven at 180° in traditional mode for 15-16 minutes. Remove from the oven and brush the middle with Alchermes liqueur.
Electric oven functions:
Oven rack position: