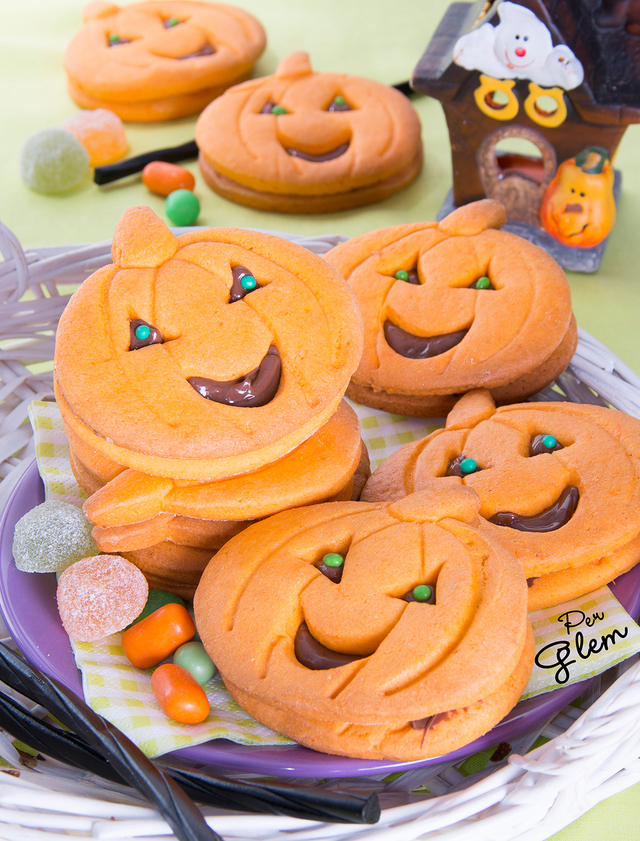 Halloween Pumpkins
Ingredients
100 g of boiled, puréed carrots
370 g of flour
50 g of potato starch
175 g of sugar
180 g of butter
3 egg yolks
3 spoonfuls of Strega liqueur
orange food colouring
to complete:
spreading cream
coloured cake decorations
Preparation
Mix the flour, potato starch and sugar with the butter, then amalgamate this crumbly mixture with the egg yolks, carrots and liqueur.
Strengthen the orange colour with the food colouring, diluted with a few drops of water, form into a loaf, wrap in kitchen film and place in the fridge for 1 hour.
Break off portions of dough (it is quite soft) and roll it out until 4 mm thick then cut out one or two biscuits at a time with the pumpkin biscuit-cutter. Place them in a baking tray on a sheet of greaseproof paper and cut a crescent moon mouth and triangular eyes in half of them.
Bake the biscuits at 170°C for 15-16 minutes.
Once cold, fix them together in pairs with the spreading cream and add pupils to the eyes by inserting two coloured cake decorations.
Electric oven functions:
Oven rack position:
Gas oven functions: