Chantilly cream and raspberry roll
Chantilly cream and raspberry roll
Preparation time 45 minutes
Cooking time as required
Baking tray of 30x40 cm
To serve 10/12 people
Ingredients
sponge:
5 eggs
170 g of sugar
100 g of flour
25 g of potato starch
1 lemon
Cream:
150 g of milk
2 egg yolks
55 g of sugar
5 g of corn starch
8 g of flour
1/2 vanilla pod
120 g of raspberries
100 g of whipped cream
raspberry filling:
3 heaped tablespoons of raspberry jam
2 tablespoons of water
Decoration:
icing-sugar
raspberries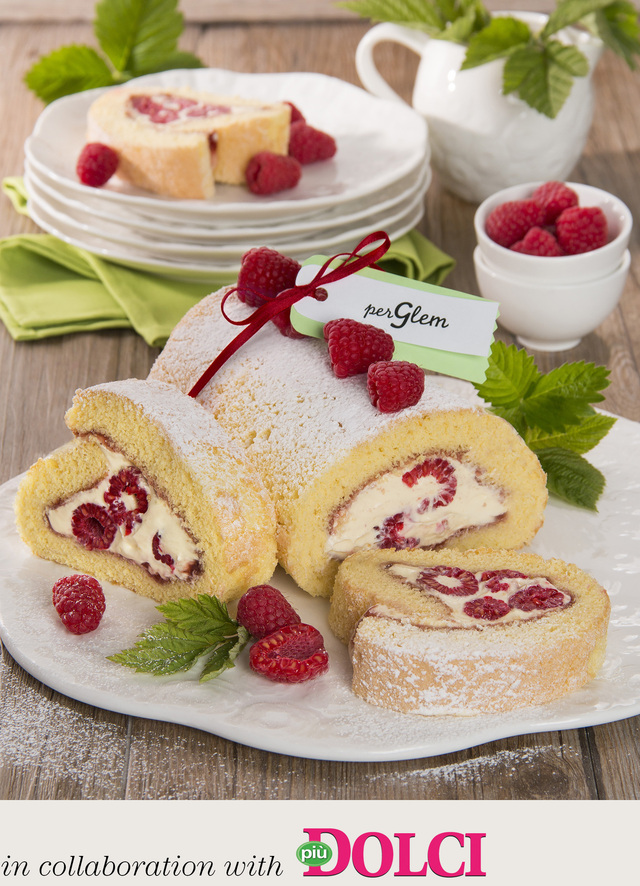 Preparation
Cream: pour the milk into a saucepan with the beans taken from the vanilla pod, bring to the boil and leave to stand for 30/40 minutes before filtering. Beat the egg yolks with the sugar, add the flour and starch, then gradually thin with the milk. Cook the cream, stirring continually, until it thickens (it should be firm). Cover it with food-grade film, place it in the fridge and leave it to cool.
Sponge: whip the eggs thoroughly with the sugar and flavour with the grated rind of the lemon. Add the sieved flours and mix thoroughly, stirring from the bottom upward. Pour the mixture into a baking tray lined with greaseproof paper, level the surface and bake at 185°C for 10 minutes.
When cooked, remove from the oven and turn the sponge out onto a clean cloth sprinkled with sugar. Remove the paper, trim the edges and roll it gently; leave it to cool at room temperature, wrapped in the cloth.
Raspberry filling: dilute the jam with hot water then sieve.
Assembly: gently unroll the sponge and spread it with the raspberry filling.
Stir the whipped cream into the cold Chantilly cream then spread it over the sponge, levelling it.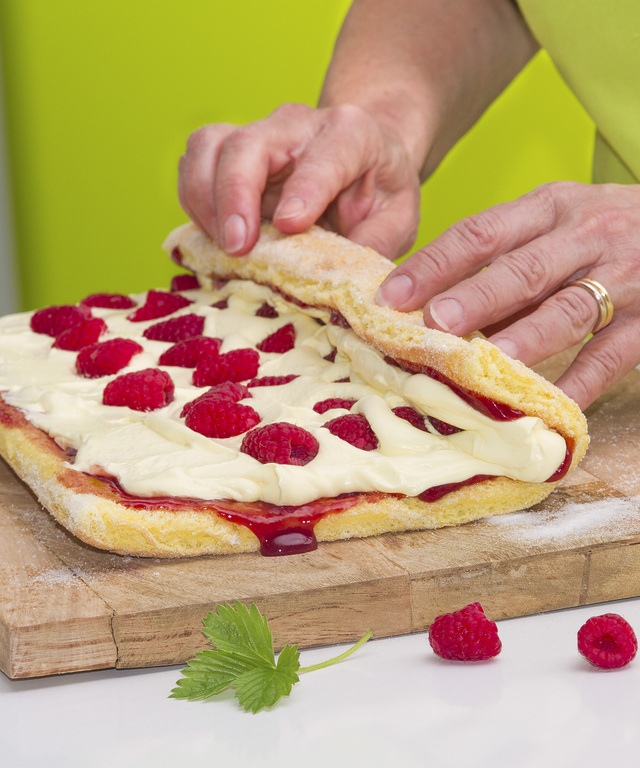 Dot with the raspberries, roll up the sponge, wrap in aluminium foil and place in the fridge for 5-6 ore.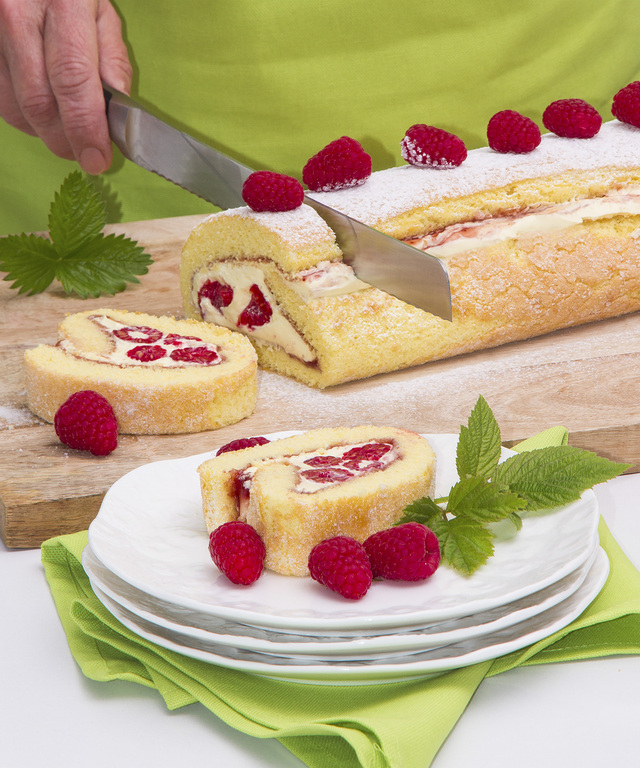 Decoration: remove the aluminium foil from the roll, dust with icing-sugar and garnish with the raspberries. Cut the roll into slices and serve. 
Electric oven functions:
Gas oven functions:
Oven rack position: